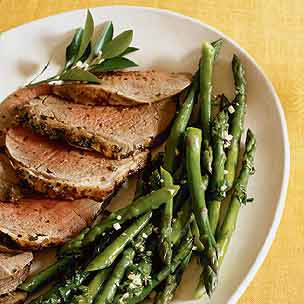 Servings 8
Time 2 hours
Difficulty Medium
Ingredients
1 leg of lamb (5 to 6 lb.).
3 tablespoons dry white wine or lemon juice.
2 tablespoons chopped parsley.
2 tablespoons chopped fresh mint leaves.
2 tablespoons olive oil.
1 tablespoon minced garlic.
1 teaspoon paprika.
1/2 teaspoon crushed or crumbled dried bay leaves.
About 1/2 teaspoon pepper.
Salt.
Procedure
Rinse lamb and pat dry; trim off and discard excess surface fat.
In a small bowl, mix wine, parsley, mint, olive oil, garlic, paprika, bay leaves, and 1/2 teaspoon pepper. Rub all over lamb.
Set lamb on a rack in an 11- by 17-inch pan. Roast in a 375° regular or convection oven until a thermometer inserted through thickest part of meat to the bone registers 140° for medium-rare, about 1 1/2 hours, or 150° for medium, about 1 3/4 hours. If drippings begin to burn, pour water into pan, 1/4 cup at a time, as needed.
Transfer lamb to a rimmed board or platter and, keeping it warm, let stand 10 to 15 minutes. Slice meat from the bone to serve. Add salt and pepper to taste.
Prepare through step 2 up to 1 day ahead; cover and chill.